Kinship With Horses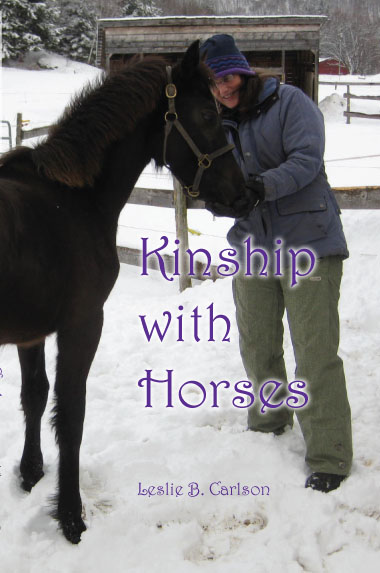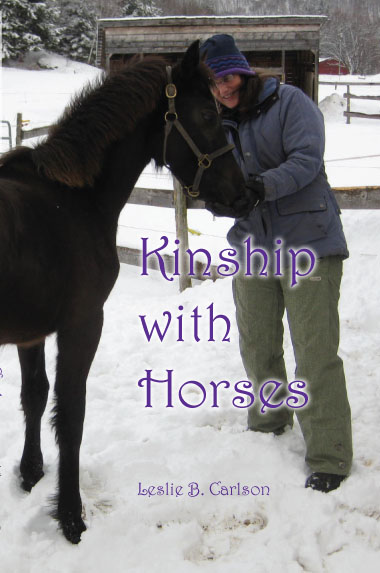 Kinship With Horses
Kinship with Horses
by Leslie B. Carlson
Nature, Horses
Paperback
ISBN 978-1890764-05-0100
100 pages, incl. 31 photos, 5-1/2 x 8-1/2
About this book

Leslie Carlson shares her nearly fifty years of experiences with horses. Each of the twenty-two chapters reveals what happens when we respect what each horse has to teach us.

As a teacher of horsemanship, the author brings a new understanding of how our thoughts and attitudes either create harmony with the horse, or difficulties.

The stories about each horse are fun to read, perceptive, and touching. Many of them are about Welsh Cob horses.
A Note on Shipping: FREE shipping and handling for all orders within the U.S.
Free shipping is by media mail and takes up to 8 days.
Rush shipping: is available for an extra fee. Please contact us for a quote.
International Shipping
For international shipping please contact us so we can inform you of shipping costs to your destination.
Reviews
Reviews from readers on amazon.com:
"Kindred Spirit"
I have lived with and competed horses for nearly 30 years and finally found a book that captures my experiences perfectly. Each story is detailed and as unique as the horse and life lesson it features. You cannot help but laugh, love and cry. — Nicole A. Kellogg, Colorado

"The Horse Whisperer Lives!"
Enjoyed this book in spite of the fact that I'm not into horses. Leslie Carlson's intellectual link with these giant animals is fascinating. Even long time horse lovers will undoubtedly experience a few unexpected turns. A great gift item for both kids and adults. This is a fun read! — Rondo F. Olsen, Los Angeles

"Wonderful book!"
I was enthralled by the stories of mind-to-mind communication between horse and human that Ms. Carlson tells. My attitude toward horses has been changed forever. I am extremely impressed by the compassion, empathy and wisdom in these pages. — Bill, Pennsylvania